iPM Series (High Accute Patient Monitor)
---
Mindray's new iPM patient monitor series has been designed to meet your everyday clinical requirements, integrating seamlessly into your hospital workflow. In acute care, a patient monitor must be intuitive to operate and allow you to access data where and when you need it. In case of patient transport, the device should be easy to carry and provide reliable monitoring performance. With its lightweight and modular design, its powerful features and intuitive user interface, the iPM patient monitor is therefore your optimal choice for acute care.
Based on a plug-and-play modular structure, iPM's monitoring functions can be quickly adjusted according to your specific clinical requirements. An intuitive interface with configurable user modes and easy to use functions helps you to save time and improve overall patient care. Thanks to wired and wireless network connections with Mindray's central monitoring system, all iPM patient data can be viewed conveniently from the nurse station or any bedside monitor in the network. Furthermore, eGataway and HL7 capabilities allow iPM to connect to the HIS/CIS systems.
- iPM's alarm lights have been designed in a unique way and can be seen from 360 degrees. This helps you to identify and react to critical situations also when not directly at the bedside. Furthermore, the "view other patient" function provides convenient access to all monitoring information from any point of care. Various mounting solutions, such as a wall mount with quick-release, make iPM even more convenient to use.
BeneView Series - T5/T6/T8/T9 (High Accute Patient Monitor)
---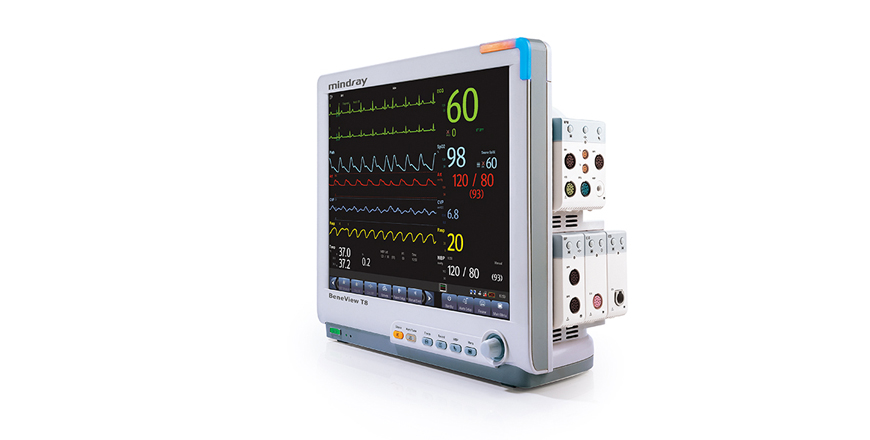 The BeneView Series has been designed to provide comprehensive patient monitoring while simultaneously integrating and displaying information from the hospital network and other bedside devices. Thus BeneView serves as a sophisticated information manager for critical care areas.
With its powerful monitoring platform and fully modular design, BeneView is capable of measuring and managing simultaneously a wide range of monitoring parameters, including advanced technologies such as PiCCO2, ScvO2 and BISx/x4 as well as clinical tools like Spider Diagram and Density Spectrum Array (DSA).
Using the plug-and-play BeneLink module, up to four other devices, such as ventilators and anesthesia machine, can be connected to the monitor, delivering and managing more information at the bedside.
Its HL7 protocol and gateway capability enable BeneView to seamlessly interact with your hospital information system or clinical information system. Patients are easily admitted and important vital signs data can be transferred to the patient record system. This efficient and paperless process improves productivity while reducing the risk of transcription errors.
Any data from hospital networks, such as CIS, PACS or LIS, can be displayed clearly on the BeneView, or on a secondary display, giving clinicians access to the information needed to support clinical decision making and enhance patient care.
BeneVision Series - N17/N15/N12 (High Accute Patient Monitor)
---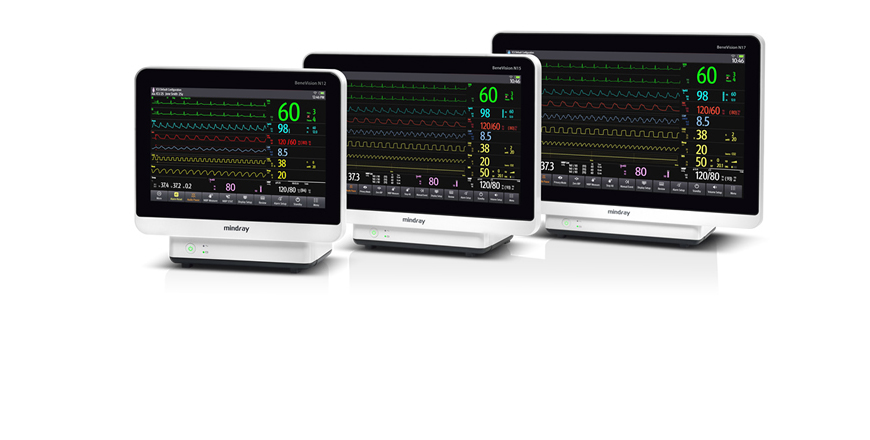 With state-of-the-art screen technology, BeneVisionTM N-Series patient monitors deliver clear, multi-color, wide-format displays for users to capture and review information at a glance. With multi-touch operation, users can control the monitor and review patient data quickly and easily.
Perfect hemodynamic monitoring solution, not only provides a variety of measurement methods, ICG, PiCCO, ScvO2, C.O., but also provides comprehensive analysis tool – HemoSightTM.HemoSight fucus on hemodynamic treatment process, and provides appropriate tools for each stage.
Advanced modular regional tissue oxygenation measurement -- INVOS rSO2.
Volumetric capnography & metabolic measurement help to evaluate the adequancy of ventilation and determine the ventilator setting effectively, and improve the saftey of weaning and extubation.
Powerful Clinical Assistive Applications (CAAs) to support efficient decision making when time is critical. Each CAA focuses on major clinical workflow challenges that individual departments face.
At every point of care, such as ICU, CCU, NICU, OR, PACU, ER, BeneVision N-Series patient monitors always provide a suitable solution to meet your clinical needs for monitoring your patient's status anywhere, anytime, even on your way through mobile devices.
With excellent transport solution, N-Series patient monitor brings a smooth workflow and safe data management through the entire care process. BeneVision takes less time to operate, and helps you understand the patient's variables quickly.
Mindray patient monitoring system incorporates extensive network adaptability to integrate with the hospital's current network infrastructure, ensuring that critical data is on hand for clinical decision making - and is integrated with the patient record.
Mindray's central station and eGateway further enhances the connectivity of BeneVision to your clinical world. Bedside devices data and other clinical systems data are shared to support your diagnosis and clinical decisions.