BeneVision N22/N19
---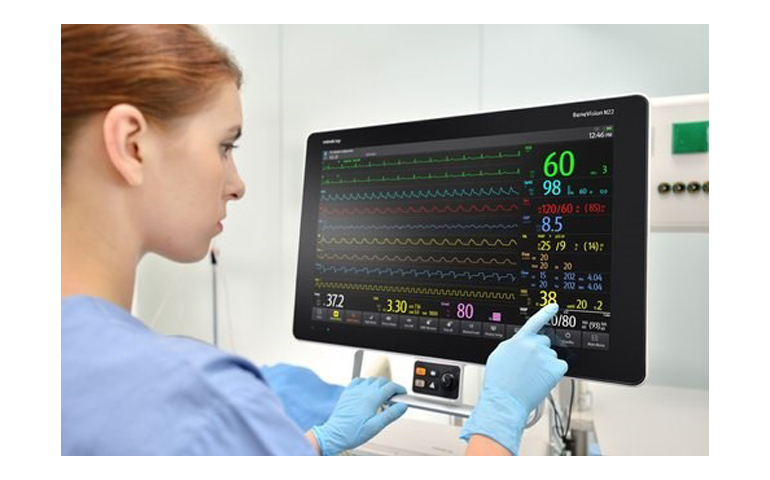 Mindray believes the best way to predict the future is to create it. The revolutionary BeneVision N22/N19 is designed to optimize user experience by satisfying all your clinical demands. With visionary-stimulating design, benchmarking ease of use, confidence-maximizing innovations and workflow-transforming interoperability, BeneVision N22/N19 is creating tomorrow's monitoring perspective today.
Change your perspective, again - The design excellence of BeneVision N22/N19 has great originality to lead your perspective. A seamless outlook optimizes your monitoring experience with super large touchscreen, cool rotatable landscape & portrait layout, ultra slim main unit as well as plug-n-play modules. An ingenious user interface including multi-window flat menus, infographic alarm indications and online user guide offers extremely intuitive patient data and ultimate ease-of-use, while auto screen brightness always keeps patient in mind.
Maximize your confidence - Benefitting from cutting-edge clinical measurements, such as rSO2, ICG, PiCCO, AG, RM, BIS, NMT, and state-of-art clinical decision support tools, such as HemoSightTM, ST GraphicTM, DSA, BeneVision N22/N19 enhances your clinical confidence to the max and helps you make easier and faster clinical decisions.
Built for a paperless future - The connectivity capabilities of BeneVision N22/N19 fit seamlessly into your clinical workflow for paperless future. Revolutionary iView clinical informatics workstation brings all intelligence (PACS, LIS, EMR, etc) on screen at point of care for one-stop diagnosis. Industry-leading BeneLink integrates all bedside devices to the monitor realtimely and facilitates centralized data management.
BeneVision N17/N15/N12
---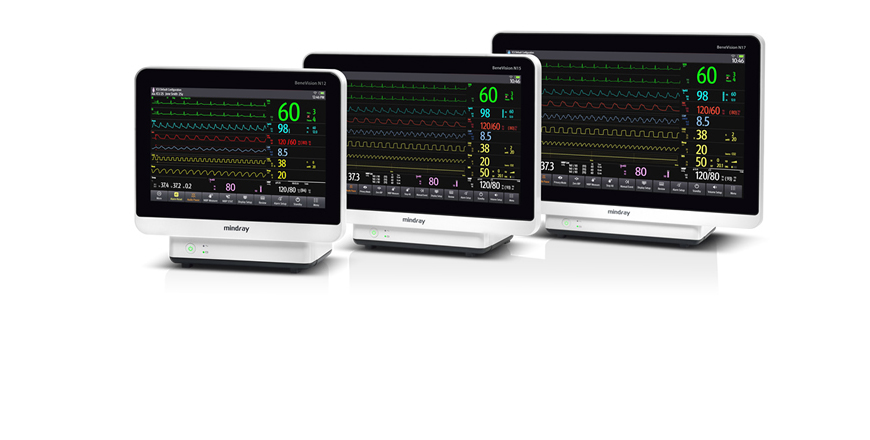 User experience enhanced by leading technologies - With state-of-the-art screen technology, BeneVision N Series patient monitors deliver clear, multi-color, wide-format displays for users to capture and review information at a glance. With multi-touch operation, users can control the monitor and review patient data quickly and easily.
Clinical insight improved by professional applications - BeneVision N Series provides the world's best monitoring technologies for you, with new applications being developed. Perfect hemodynamic monitoring solution, not only provides a variety of measurement methods, ICG, PiCCO, ScvO2, C.O., but also provides comprehensive analysis tool – HemoSightTM. HemoSight focuses on hemodynamic treatment process, and provides appropriate tools for each stage. Advanced modular regional tissue oxygenation measurement -- INVOS rSO2. Volumetric capnography & metabolic measurement help to evaluate the adequancy of ventilation and determine the ventilator setting effectively, and improve the safety of weaning and extubation. Powerful Clinical Assistive Applications (CAAs) to support efficient decision making when time is critical. Each CAA focuses on major clinical workflow challenges that individual departments face.
Solutions optimized for each point of care - At every point of care, such as ICU, CCU, NICU, OR, PACU, ER, BeneVision N Series patient monitors always provide a suitable solution to meet your clinical needs for monitoring your patient's status anywhere, anytime, even on your way through mobile devices. With excellent transport solution, BeneVision N Series patient monitor brings a smooth workflow and safe data management through the entire care process. BeneVision takes less time to operate, and helps you understand the patient's variables quickly. With HL7,BeneVision N Series patient monitors can directly connect to the hospital clinical network.BeneVision N12 is capable of monitoring multiple parameters simultaneously both at bedside and during transport.
IT structure designed for seamless connectivity - Mindray patient monitoring system incorporates extensive network adaptability to integrate with the hospital's current network infrastructure, ensuring that critical data is on hand for clinical decision making - and is integrated with the patient record. Mindray's central station and eGateway further enhances the connectivity of BeneVision to your clinical world. Bedside devices data and other clinical systems data are shared to support your diagnosis and clinical decisions.